The Hydramax Workholding System
The Hydramax Workholding System is designed to allow multiple parts, with variations in size to be secured in a Kurt vise simultaneously. Problems usually associated with attempting to hold multiple parts in one vise are virtually eliminated. Save time and money without the hassles of broken cutters, scraped parts, or damaged fixtures. Also, fragile parts can be held securely, without crushing pressure.
The system includes two jaws both equipped with our FastBack washer mounting plates. The solid jaw is replaced by a simple machinable aluminum soft jaw, while the moveable jaw is replaced by the Hydramax jaw. The Hydramax jaw incorporates several independently acting clamping pistons. These pistons compensate for variations in the parts being held. The self-contained hydraulic chamber within the jaw equalizes the pressure of the individual pistons, allowing the jaw to adapt to the parts being held for machining. Multiple systems are available with variations in the size and number of hydraulic pistons within the self-contained jaw unit.
rnrn
FastBack Interchange System
Based around the patented FastBack Bolt, this quick-change system allows the jaw to be changed in 3 strokes! This greatly increases productivity by reducing vise change setup time.
rnrn
The jaws change easily without opening the vise or fastening bolts more than a single turn. A pair of vise jaws changes out in under a minute with the vise open or closed. Using a supplied 6-inch hex wrench to reach through the vise body, the FastBack Bolt is loosened, or tightened from the reverse sides of the vise. The system saves valuable set-up time on return jobs because it allows the jaws to be fastened while the parts are already held in the vise.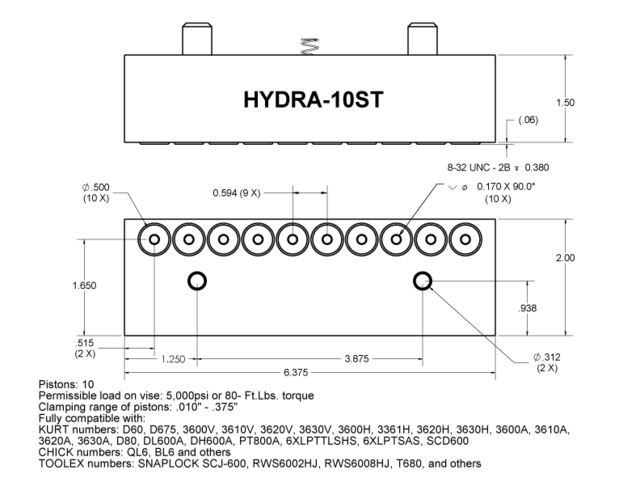 Each Hydramax Jaw includes FastBack mounting hardware, a machinable soft jaw with FastBack hardware, and one FastBack Wrench.